In This Issue
Second Annual Pickleball Tournament Held at the GCC
In September, athletes from the western/central New York regions gathered at the Geneva Community Center to compete in a pickleball skill level tournament to support the Boys & Girls Club of Geneva. The fastest–growing recreational sport in America, pickleball is a paddle game played on a badminton court with a special perforated ball. Easy to learn, it can be a fast-paced competitive game among experienced players. With all of the money coming from team entry fees paid by the competing athletes, the tournament once again exceeded the Club's donation target. There were 26 teams from the greater Rochester and Syracuse metropolitan areas, New York's Southern Tier, and local Finger Lakes communities. The competition was fierce and the sportsmanship outstanding; medals were awarded to the top three teams in each division: adult, the masters, and the open mixed doubles. The bronze medal match featured two teams that play regularly at the Carter Road facility. George Fairfax of Geneva and Mary Hamm of Rushville faced off against Rich Cowley of Geneva and Vanessa Nye of Seneca Falls in the open mixed doubles competition. George and Mary jumped out to an early lead that looked to be insurmountable. But, Rich and Vanessa hung tough and eventually clawed their way back to a narrow two point victory. The match ended with congratulations and hugs all around. Both Rich and George have worked hard for the past three years to bring pickleball to life in Geneva. The prospects for continuing this fundraiser for the Boys & Girls Club of Geneva in the years to come are promising.
Recording Studio Available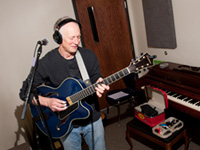 Earlier this year, the Geneva Community Center opened an audio recording studio to provide affordable, professional recording services to community members. Among the first to rent the space was Rick Hoyt, who describes his music as "jump jazz blues and boogie-woogie ragtime swing." While his usual band is the Cool Club, he also plays with Los Finsteros, the Barn Floor Groovers, and Dogtown. Hoyt has been back to use the studio several times since the first recording, as have a number of other community members. In addition to rental, the studio has been utilized for classes and programming. Among the more unique opportunities the space opened for students, Geneva native and Gym Class Heroes drummer Matt McGinley returned to teach a workshop in the studio. "When the Community Center was conceptualized, a need for a recording studio was identified," explains Arlene Francis, executive director of the Boys & Girls Club of Geneva. "There is so much performance and musical talent in the Geneva community that we knew there would be a need for such a space. We're thrilled now to be able to make the audio recording studio readily available."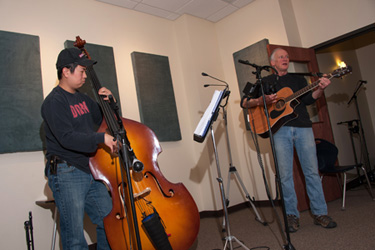 The studio features industry-standard recording software (Pro Tools 10) and has the capability to record up to 16 channels at once. When rented, the studio is staffed by Jameson Dunham or Terren Waranis, both professional sound engineers who have earned their degrees in music recording from Finger Lakes Community College. More information about the space, including photos, dimensions and technical specs are available online: http://genevacommunitycenter.org/facilities/recording-studio/. To reserve the studio, contact Waranis at 315-775-3586, or email gccstudio@genevabgc.org
Students Cook, Eat at Center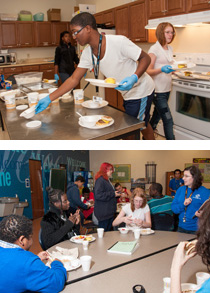 With the support of community partners such as the Geneva School District and the Alliance of NYS Boys & Girls Clubs who secured critical statewide funding, the Boys & Girls Club of Geneva has fed students snacks after school, through the Backpack program and over school breaks. This year, the BGCG took over administration of the Summer Food Service Program, providing food to people at three sites in Geneva during the summer. Now, the Club has been able to take these efforts to new levels by providing dinner to more than 35 kids a night, every week night at the Geneva Community Center. Many of the kids go to the community center directly from athletic practices – and are more than ready to "refuel." The dinner program is funded through the School Innovations Fund, another grant opportunity through the Club's partnership with the Geneva City School District. "These monies provide a 'wrap around program' for high school students to provide educational support, a healthy meal and social recreation to promote positive social skills and interactions," explains Arlene Francis, executive director of the Boys & Girls Club of Geneva. Reinforcing the Boys & Girls Club's Healthy Habits curriculum, these nutritious meals are made with pride by the young people working side-by-side with staff. The kids are learning to cook healthy, balanced meals and are enjoying the camaraderie of cooking in a group. The Club is looking to continue to build on this effort to teach more kids healthy, nutritious habits that will last a lifetime while feeding them in the short term.
Roots and Shoots at GCC "Growing"

A tree nursery at the Geneva Community Center is being designed in an effort to further children's environmental literacy while improving the local environment. The initiative was the brainchild of Dan Budmen, a junior at Hobart and William Smith Colleges, who was awarded the HWS Centennial Leadership Fellowship in the amount of $5,000 to design the nursery. Budmen volunteers with the Seneca Roots & Shoots organization – the local chapter of a children's environmental organization started by Jane Goodall – that meets at the community center. He submitted a proposal to design and construct a greenhouse. Budmen, members of the organization, and HWS Colleges community members erected the greenhouse during HWS Day of Service, October 19, and plants were moved in by Roots & Shoots children on Friday, October 25. All of the pots and seedlings the group had cultivated were moved in to the greenhouse and some new ones were planted. They then sat down in the greenhouse, among the pots, and read about the trees and how vital they are. Lessons in the environment, the history of trees in the Finger Lakes, research on local tree species and a history of local nurseryman William Smith will help develop children's environmental literacy throughout the year. Nan Crystal Arens, associate professor of geoscience at HWS who oversees the local Roots and Shoots group, explains the trees then will be planted within the Geneva area as part of a project aimed at "habitat restoration within the city, where erosion and degradation have occurred, such as along Castle Creek." "The trees that will be planted in the Finger Lakes region are very similar to the kids who will be growing them, unique. Through the growing of trees, students will learn to respect individuality and the environment, both the social and the natural, in which we all exist," says Budmen. The aim of Roots and Shoots is to develop the human community, environment and animals. Arens explains they work with elementary students to cultivate and nurture the natural environment while also improving children's comfort level with nature: "We use structured activities like the planting and gardening as well as spontaneous, imaginative play to do community building, get them to know each other and appreciate their differences while realizing that it's okay to get mud on your shoes, that frogs are cool to watch and you can play with a stick – things that modern life doesn't always permit on a large scale." See the Roots and Shoots at GCC photo gallery.

BGCG Partners with Geneva Community Radio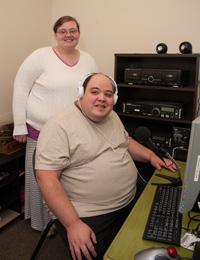 The Boys & Girls Club of Geneva has forged a new partnership with Geneva Community Radio (GCR) an independent, non-profit and community supported radio station. As a result, the station relocated its operations to the Geneva Community Center in September. Station Manager Jason Longwell, in writing about the partnership on the station's blog, noted: "This partnership will ensure a sound and secure future for the radio station and will present new opportunity for youth, teens and other members of the Geneva community to produce new and existing radio content… We are very excited about the potential for this partnership." At the moment, Geneva Community Radio is strictly an internet radio station, which can be heard via genevaradio.blogspot.com. However, its partnership with the Boys & Girls Club will assist in the management's ultimate goal of creating a low-power FM station as the Club will act as the licensee of the proposed station. GCR broadcasts diverse programming from around the world and within Geneva. The station can be reached via email at Genevaradio@yahoo.com, or by phone at (315)308-4272.
Golf Tournament

The 17th Annual Boys & Girls Club of Geneva Golf Classic, a four-person scramble, was held on July 16, at Silver Creek Golf Course, Waterloo. The first-place team this year was Interstate Heating, Inc. The event raised $16,600 and we'd like to extend our sincere thanks to the many volunteers, players and others who made the event possible, especially the following sponsors:
Gold level
Bank of the Finger Lakes
Crossroads Abstract Corporation
Finger Lakes Times
Heaton & Venuti
Interstate Heating & Cooling
Lowry Chiropractic
Meier Supply Co. Inc.
Ramada Geneva Lakefront
The Presbyterian Church of Geneva
Silver level
Ace Automatics
Belhurst
Community Bank, NA
Ed Wright
Elderlee
Finger Lakes Community Health
Finger Lakes Family Funeral Home
Finger Lakes Medical Associates
Finger Lakes Partners
Finger Lakes Radio Group
Generations Bank
Guardian Industries
Kolb's Kids
Lyons National Bank
Mike Barnard Chevrolet-Buick-GMC
Shoshin Leadership, Inc.
Silver Creek Golf Course
Stork Insurance
Seneca Building Company/Geneva Foreign and Sport
Vance Metal Fabricators
Walt Gate
Banner sponsorship
Canandaigua National Bank
Club 86
Finger Lakes Health
Hobart and William Smith Colleges
ITT/Goulds Pumps
Northrup Supply
Tee sign sponsorship
African American Mens Association
Ashley Furniture/D&R
Barrett Marine
Bond, McDonald & Lehman
Century 21 Steve Davoli Real Estate
Church Creative Flooring
Cuddy & Ward LLP
Diduro Painting
Don Damick Insurance
Edward Jones
Finger Lakes Physical Therapy
Finger Lakes Technologies Group, Inc.
Frederiksen & Sirianni, LLP CPA Firm
Geneva Area Chamber of Commerce
Geneva Club Beverage
Geneva Country Club
Hampton Inn
Ken Steadman, M.D.
In House Graphic Design, Inc.
Midey, Mirras & Ricci
Morgan Stanley/Smith Barney
Phelps Sungas
Pipitone Enterprises LLC
Sandy Ansley
Stivers Seneca Marine
Super Casuals
The Printing Center
Uncle Joe's/Nonna's Trattoria
17th Annual Dinner

The 17th Annual Boys & Girls Club of Geneva dinner was held Thursday, October 17, at Club 86. Vance Metal Fabricators, Inc. was the presenting sponsor. During the event, Jeff Adams and Janet Humphrey were honored as Volunteers of the Year. Jeff has taught several photography courses at the Geneva Community Center including basic digital photography, editing, creative digital photography and advanced digital photography. Janet is in her third year of serving on the Boys & Girls Club Basketball Commission, overseeing the Club's teams and their coaches within the Finger Lakes Travel League. She also assists with the Club's in-house program and annual basketball tournament held at Hobart and William Smith Colleges, and volunteers for the Central Western AAU Youth Basketball organization. Community Partners of the Year recognized at the dinner were the Geneva Theatre Guild and Smith Center for the Arts. Bob Ritter, Goodman Street Club Unit Director with the help of members from both club sites, presented Formula for Impact as a strategy for every youth served to achieve academic success, to possess a strong moral character and to lead a healthy lifestyle. We couldn't make the impact we do without the support of individuals and organizations such as these. At this time, we'd also like to thank the other sponsors who made the annual dinner possible:
Principal Roll Sponsors
Hobart and William Smith Colleges
Guardian Industries
High Honor Roll Sponsors
Finger Lakes Bone & Joint Center
Generations Bank
Howard Jeannette
Lyons National Bank
The Smith Center for the Arts
Ramada Geneva Lakefront
Honor Roll Sponsors
Bank of the Finger Lakes
Club 86
Coldwell Banker Parrott-Venuti
Finger Lakes Community College
Finger Lakes Medical Associates
Finger Lakes Railway
Five Star Bank
Heaton and Venuti
NYSEG
Mentor Sponsors
Anne Nenneau
Elderlee, Inc.
Finger Lakes Health
In House Graphic Design, Inc.
ITT Goulds Pumps
MVP
Ontario County ARC
Friends of the Kids
Billsboro Winery Cam's New York Pizzeria Cuddy & Ward, LLP
Finger Lakes Partners Insurance
Finger Lakes Times Geneva Club Beverage Phelps Sungas
Reliant Community Credit Union Sessler Companies Morgan Stanley
The Red Dove Tavern
The Tuxill Group
In Kind Sponsors
See the Boys & Girls Club of Geneva 17th Annual Dinner photo gallery.