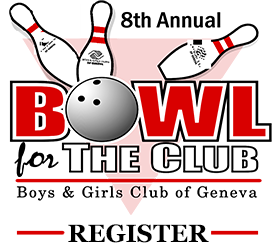 The 2015 Boys & Girls Club of Geneva's Bowl-A-Thon will give local bowlers a chance to watch and compete against professional and All Star bowlers while raising money for a good cause.
Famed local pro Doug Kent will bowl with some of his friends and all other participants will get a chance to beat their score and win prizes. Handicaps will be provided!
This year's event — celebrating the Fifth Anniversary of the Geneva Community Center — will include live music, great food and door prizes awarded throughout the day. Teams from Waterloo, Geneva and Newark schools are already signed up. Form your team now and beat the pros!
You can sign up online or download a registration packet here.