Sports, Fitness & Recreation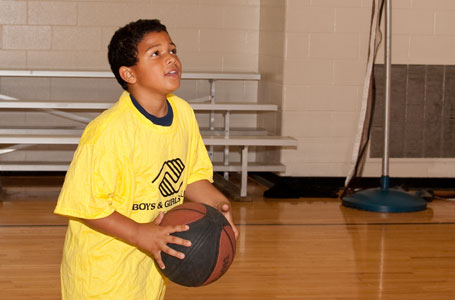 Triple Play:  A Game Plan of Mind, Body and Soul
This national program takes a holistic approach to educating boys and girls about good nutrition, making physical fitness a daily practice and developing individual strengths and good character. In addition to components for the mind and body, the Triple Play program gets at the soul of the Club experience – the games room.  Each Mind, Body and Soul program component can stand alone, yet integrating them allows Club members to reap more powerful, lifelong benefits.
Mind
Healthy Habits: Empowering youth to eat right is a generation-changing, life-enhancing program goal, and Triple Play's nutrition component, called Healthy Habits, covers the power of choice, calories, vitamins and minerals, the food pyramid and appropriate portion size.
Pre-/Post-Tests: Three age-appropriate surveys and answer keys are available for downloading (view or print in Adobe Reader). Please remember to administer the surveys before and after your members participate in the program. This assessment method can help evaluate members' knowledge and provide important local data that can be used for funding opportunities.
Body
Taking a systematic approach, this component boosts Clubs' traditional physical activities to a higher level by providing sports and fitness activities for all youth – boys and girls, athletically gifted and those talented in other areas, children and teens alike. Daily Fitness Challenges: six challenges give youth at every age the chance to play longer and harder at different games – from jumping rope to basketball and creating games of their own.
Basketball Challenge
Jump Rope Challenge
Get Fit Challenge
Walk/Run Challenge
Home Run Challenge
Invent-a-Sport Challenge
Pre-/Post-Tests: The Triple Play Daily Challenges Pre/Post Survey and Answer Key are available for downloading (view/print in Adobe Reader). Please remember to administer the survey before and after your members participate in the program. This tool can help assess members' health and fitness knowledge and gauge your Club's effectiveness as you seek funding opportunities to support your athletic initiatives.
Soul
This social recreation program includes a resource guide, training and additional tools to run a top-notch games room and social recreation program in the Club. The Smart Guide to Social Recreation: Effective Gamesroom Management and Leadership provides strategies and tools for running a games room program.
Boys & Girls Club Basketball League
Since 1996, the Club has offered a basketball league to the youth grades 3 – 8 for both boys and girls as a skill building program that promotes the love of the game. Thanks to the City of Geneva, the club has expanded the league to include grade 9-12.
The league currently runs from November to March. Basketball registrations will be available in August when you can download the form for submission at the Goodman Street Club and the Teen Center. All youth must be a Club member in order to register. See Publications & Forms to download a membership application.