Collaborations
Working with other organizations in our community has brought about some of the Boys & Girls Club most satisfying events and programs, while also helping to "bring Geneva closer together." Here are some examples of collaborations the Club has enjoyed:
Healthy Lifestyles
These organizations are helping to keep our members active and moving:
City of Geneva Recreation Department – Provides ice skating experiences for BGC Members.
Geneva Family YMCA – Provides swim time for BCG members.
Hillside Children's Residential Center – Partners with the BGC  for softball and basketball activity visits to Varrick Campus and to the Geneva Community Center.
Finger Lakes Community Health –  Facilitates SMART Girls
Academic Support
Geneva Reads: Provides literacy support at the Goodman Clubhouse and Community Bookshelves at the Geneva Community Center.
Event and Program Support
Geneva Housing Authority's Courtyard Apartment's Tenants Association – Provides assistance with Black History Month and the annual Holiday Celebration held at the Goodman Street Clubhouse. In exchange, BGC offers GHA its facility for occasional block parties.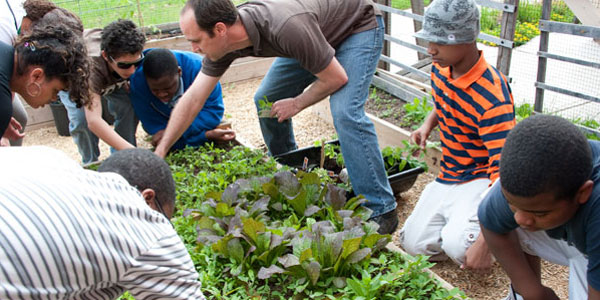 A rotating group of community volunteers help with our Teen and Senior Citizen Garden Club program. Volunteers include board members, Master Gardeners, USDA's Plant Genetics Group and Cornell staff and students from the NYS Agricultural Experiment Station, HWS staff, professors and students, an FLCC professor and community garden enthusiasts. Thanks to John Hicks' donation of Organix Soil, the expertise of our volunteers, and hard work by the teens and seniors, the garden grows each year.
Pepsi – Provides employer shirts to our staff members.
Grounds Care
Geneva School District – Provides grounds maintenance such as snow removal in exchange for use of our athletic field and facilities,.
Nutrition Programs
These groups help reach children who may not otherwise get a nutritional mid-day meal or healthy snack, particularly during summer months or when schools are closed:
Catholic Charities provides the Summer Food Program at both the Goodman Street Club and Teen Center programs
Geneva City Schools prepares afterschool snacks for both sites
Geneva Rotary Club provides funding for snacks and meals during school breaks and full days off of school
Youth to Young Adulthood Programming
African Men's Association – Provides support for college visitation and exploration, and assists BGC teens with college application preparation.
First Niagara – Facilitates Money Matters, a workshop teaching BGC members details of managing personal finance.
Hobart and William Smith Colleges – Provides volunteers for the Club programs "Smart Girls" and "Passport to Manhood."
Old Navy – Offers BGC teens a summer "Sales Camp" for a look at retail and business operations.
Reliant Federal Credit Bureau – Supports Junior Achievement and other financial education activites.
Ontario County Workforce Investment Board – Assists with finding summer job opportunities for BGC youth and helps with training "Money Matters" programming.
Ontario County WYFY – Provides youth forums and activities throughout Ontario County to give youth a voice to make a positive impact on their communities
Ontario County Youth Court – Provides training for members to participate in real life, first offense court cases using restorative justice strategies to reduce recidivism.